BOMB Magazine received HNY Action Grants in 2017 and 2019 for the "Oral History Education Initiative." Since 2014, BOMB's Oral History Project has staged one-on-one interviews with New York City-based visual artists of African descent, conducted by curators, scholars, and cultural producers. On the 2nd of June, HNY Grants Assistant Kordell K. Hammond met via Zoom with Betsy Sussler, Executive Director and Editor-in-Chief, and Stephanie E. Goodalle, Oral History Fellow from BOMB Magazine to talk about their recently completed Action Grant project, Oral History LIVE!, and tips for cultural organizations applying for HNY grant support.
As the HNY Blog is intended to accommodate diverse communities and historically underserved audiences, as well as highlight effective humanities centered efforts which cultivate creative value across our state, we hope HNY followers will be excited to read about BOMB Magazine and its "Oral History LIVE!" series.
13 JULY, 2021
---
Kordell K. Hammond: You know I have to ask: Why name the magazine "BOMB" ?
Betsy Sussler: New Art Publications, also known as BOMB Magazine, started forty years ago. We imagined a magazine where artists could talk to each other. Where they could talk to each other about the work the way they talk about it among themselves. Which is much more intimate and intellectually oriented. It also allows life and, well, failure to come into the picture.
At that time, I had been acting in off-off-off-off-off-Broadway, avant garde plays that did not stay open for very long. So we decided to call it BOMB, after plays that bomb. To be honest, we didn't think the magazine was going to last.
KKH: Talk to me about how BOMB's Oral History Project came to life.
BS: The project started in 2012. During a discussion that took place at The Archives of American Art in Washington D.C., about fifty people, most of them writers and academics, talked quite openly about the oral histories that the Archives were producing. And it was there where I raised my hand and said, "BOMB would like to do more oral histories in New York City, where we're based." I then went back to New York and called the people who I thought would have a stake in this, i.e., African-American visual artists and contributors.
And they all very graciously said, "OK, Betsy, we know you got us into this, but we're happy to get on this ride and roll with you." And that they did.
We started publishing the oral histories online in 2014. To date we've done about twenty-five of them. We can't publish them quarterly in print because they're substantial publications, 50-100 pages long, like novellas, and would take up an entire issue. So we publish them online accompanied by live events with the artists themselves, which are recorded and added to our extensive archive.
KKH: Approximately half of the features BOMB publishes are by or about artists and writers of color. Tell me about how you choose the artists for your ongoing conversation series.
BS: We curate lists of well-known and under-recognized artists, especially those who are elderly. When we first started, we were afraid we'd lose them, and indeed, before we even got rolling, we lost two people. It was traumatic, but it happens, that's the process of life.
The talented painter Jack Whitten, who we lost a few years ago, interviewed Edward Clark, who has also since passed. (Edward Clark by Jack Whitten.) Carrie Mae Weems interviewed Adger Cowans. (Adger Cowans by Carrie Mae Weems.) The seminal painter Stanley Whitney, who was one of the most important members of the original advisory board, interviewed Gerald Jackson. (Greald Jackson by Stanley Whitney.) Rujeko Hockley interviewed Linda Goode Bryant. (Linda Goode Bryant by Rujeko Hockley.)
It was a great start. We've been publishing three or more oral histories a year ever since. And so, we do this for all of our interviews and oral histories: we curate lists and go from there.
KKH: Doing oral history, as a medium of interpersonal connection, is a relatively new point of departure for community organizers and even individuals wanting to identify with other people and the larger world around them. What is unique about BOMB's approach to doing oral history?
BS: Our approach is inclusive. We treat the original transcript of the audio tape as a script in development. We collaborate with the artist over many drafts, so that they can clarify for themselves what it is they want to say. They can add new items or delete anything they're uncomfortable with. Our approach provides a singular opportunity for artists to reflect on their lives and work and ensures that their stories are safeguarded for future generations. In short, we do this long process so that artists can tell their life stories the way they want to tell it. The challenge, as always, is to retain the spoken-word element of these oral histories as we transform them into a readable literary text.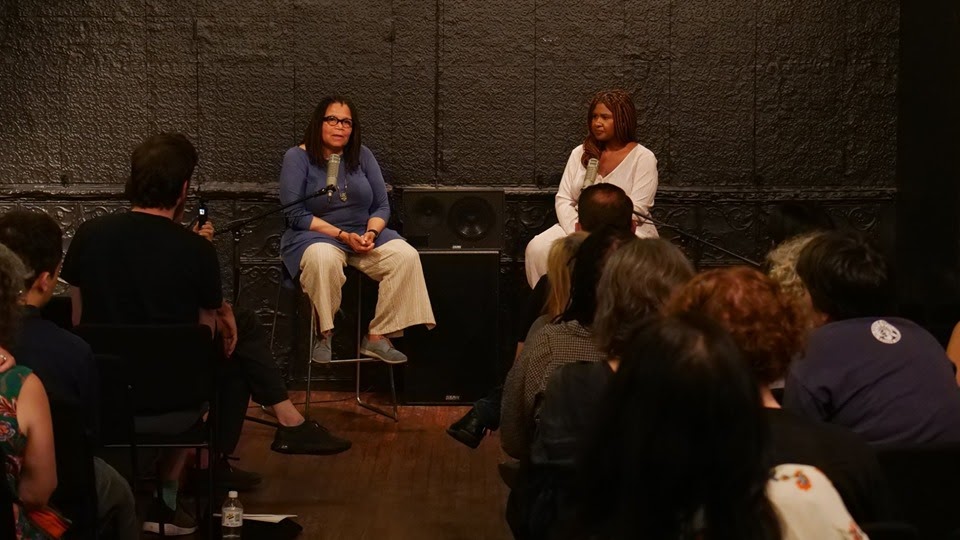 One thing I began to realize was that BOMB should be passing this editorial process over to younger generations. And that's why we started the fellowship program: introduced in the Summer of 2018, this is a post-graduate editorial position who is responsible for managing production, transcribing audio recordings of interviews, conducting biographical research, and producing one to two public programs inspired by the Oral Histories. Stephanie is the third Fellow in our oral history program.
KKH: Hey, Stephanie. As a multidisciplinary artist yourself, what have you learned from BOMB's approach to oral history?
Stephanie E. Goodalle: BOMB's approach gave me the space to develop my own style. More specifically, it broadened my understanding of partnership, particularly in an editorial sense: How can we make this an interesting read? Because let's face it, if BOMB was a visual-arts publication, there should be engaging pictures, for example. And because that's more aligned with what I'm interested in I've definitely created a larger editorial role alongside our marketing team and our audience engagement team, to help us build a stronger online presence.
KKH: Tell me about the LIVE! events, for which BOMB was recently awarded an Action Grant.
SEG: Oral History LIVE! events are a public presentation of the interview process, primarily between the artists and whomever interviews them. This person is typically someone the artist is familiar with, whether an artist themselves, a scholar, a friend, or a family member. Our LIVE! events try to remove the mystique and the hierarchy that is often implicit in arts presentations and public programming in general.
For example, the first LIVE! event I did was with Maren Hassinger and Lowery Stokes Sims (Maren Hassinger by Lowery Stokes Sims) at the Harlem Library branch of the NYPL. Before our event there was a book club meeting, then afterwards we went across the street to the park where Maren had installed three sculptures, and she gave the audience a tour of the space. And so, gathering in this way, with a little something before and a little something after the main event, was wonderful. The events basically are an opportunity for the interviewer and the interviewee to sit down and have a moderated yet candid conversation with a live audience.
Our dual oral history was with Janet Olivia Henry and Sana Musasama, where they interviewed each other (Janet Olivia Henry & Sana Musasama). They both work with materials; Janet is multimedia and Sana is a ceramicist, which was a nice cross disciplinary dialogue. We collaborated with the Museum of Arts and Design. Sana's in their permanent collection and so it was nice to have an appropriate venue for the artists to sit and discuss their work.
KKH: Is it safe to say BOMB's Oral History LIVE! adapted well to shifting events online?
SEG: It's safe to say we adapted well. The pandemic has really opened a new door for us, as far as programming. Our most recent LIVE! events were with Odili Donald Odita and Ugochukwu-Smooth C. Nzewi (Odili Donald Odita by Ugochukwu-Smooth C. Nzewi), and also with Dindga McCannon (Dindga McCannon by Philip Glahn). Odili and Smooth's program took a more traditional approach of talking with each other and presenting a chronology to Odili's life and practice. Meanwhile, Dindga led this amazing workshop with participants.
BS: Three hundred and sixty participants in total, which could never have happened in an in-person, on-site location. Before Covid, the live events took place at The Studio Museum in Harlem, or at the HarlemLibrary branch of the NYPL.
The Dindga McCannon LIVE! event was conducted in two 60-minute online sessions, where McCannon informally lectured and later led a workshop where she presented excerpts from her oral history, and taught participants the many methods for creating one's own history through writing and art.
KKH: Imagine a question you would like to ask other community-based cultural organizations who want to apply for HNY Grant support. Based on your organization's application experience and being awarded multiple grants—and also given BOMB's seamless production and programming response throughout the pandemic—what advice would you impart?
SEG: Something I've grown fond of at the BOMB offices: teamwork and collaboration. While it's one thing to be working in our own individual sections and on our own individual projects, it's another thing to go over to another department and ask for help. And oftentimes, because they're seeing it from a different perspective, the feedback is incredibly valuable. And it may work. It may not. But it's the fact that you've taken the initial steps to cultivate a soft space for ideas to grow and become fertile. Creating more room for multiple voices to be heard.
BS: Yeah, and I'm going to add to that. At BOMB we work as a team. It's really about everybody doing what they're best at and bringing that to the table, and then together discussing the next steps. And I would say that's true of partnerships as well. Everyone has their area of expertise. You respect it and you work with them as a team.
As for advice for future grant applicants? Our general rule of thumb: not to tie yourself up into a pretzel. We do what we do. We do it really well. And if we fit, if the grant application is the right fit, great. And if it's not, so be it. That's our strategic plan for the future.
KKH: Thank you, Betsy and Stephanie, for sharing your thoughts with us.
BS: We really enjoyed spending time with you.
SEG: Yeah, thank you, KK. And big thanks to everyone at HNY!
BS: Ok, bye yall!
———
The nature of BOMB's publishing efforts make its work accessible to individuals with disabilities. Audiences who cannot leave their home for health or other reasons have access to contemporary art and artists through BOMB's print magazine and free online content. The recently announced podcast series, FUSE, further makes their mission accessible to visually impaired audiences by presenting audio conversations between artists.
BOMB is a nonprofit, multi-platform publishing house that creates, disseminates, and preserves artist-generated content that provides the public with unique insight into the creative process. The Oral History Project is a series of interviews that collects, documents, and preserves the life stories of New York City based visual artists of the African Diaspora. To learn more about BOMB's Oral History Project series, check this article written by Betsy. More info on BOMB Magazine can be found here.
Interview and Blogpost by Kordell K. Hammond, HNY Grants Assistant
Keep up with HNY — get the HNY Newsletter!

Stephanie E. Goodalle is an editor, writer, oral historian, and art historian whose work/research focuses on the experiences of the Black diaspora. Her essays and interviews have been published in ART PAPERS, BOMB, BURNAWAY, and elsewhere. Past curatorial and programming endeavors include Synesthesia: Sound, Color, and Iconography in Free to Be at Jenkins Johnson Projects; Other Articulations of the Real at the Hessel Museum, NY; and Click, Click: Conversations on Black Photography. As BOMB's Oral History Fellow, she co-organized in-depth oral histories, events, and panels with artists and curators including Linda Goode Bryant, Rujeko Hockley, Odili Donald Odita, Ugochukwu C. Smooth Nzewi, Sana Musasama, and Janet Olivia Henry.
Betsy Sussler, Executive Director and Editor-in-Chief, co-founded BOMB Magazine in 1981 and has forty years of experience as an accomplished editor and director of a nonprofit organization. She has conducted numerous interviews for BOMB, including Cindy Sherman, Carroll Dunham, Gary Indiana, Whit Stillman, James Nares, Keith Sonnier, and Sarah Charlesworth, and has edited four anthologies: BOMB: Speak Art! (1997), Speak Fiction and Poetry! (1998), Speak Theater and Film! (1999), and The Author Interviews (2014). Sussler now oversees print and web editorial, development, and short and long-term strategic planning. Sussler provides oversight and leadership for BOMB Magazine and BOMB Daily and leads BOMB's Oral History Project.